Welcome to the Official Tiny Dice Dungeon Wiki Tiny Dice Dungeon
Edit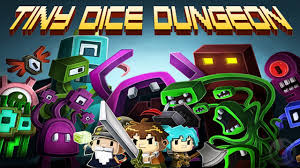 Risk everything by rolling die after die to push your heroes to their limits!
It is currently available free for download from the Apple App store for iPad and iPhone, Google Play for Android devices worldwide, or play online at Kongregate.com. In-app purchases are available for players who wish to spend real money on uncut dice or coins in game.
This wiki is written and maintained by brave adventurers of Tiny Dice Dungeon.
Game Content
Edit
On this little table you can find the game content that we posted and edited on the wiki, click the images or hyperlinks to go check the info.
| | |
| --- | --- |
| | Manual: You can learn about the game basics or more. |
| | PvP Battles : Test your might and tactics against other opponents. |
| | Heroes are the leader of your party, represented by a humanoid. Every game starts with the Adventurer, a handsome lad with a breaker sword, but as you progress you can unlock other Heroes. |
| | Monsters: To pet and train, or just defeat them to level up. |
| | You use dice to attack and heal. There are different types and attributes. |
| | Quests, objectives and places: |
| | Items! You cannot make an JRPG without a lot of items: |
| | And finally: Rewards! |