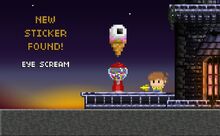 Sticker is a special type of reward, exclusive to Dark Tower. Every 5 floors player is allowed to get a random sticker from a capsule machine, located on the balcony. All collected stickers can be seen in Sticker Collection menu which can be accessed from Dark Tower level select menu.
A set of five stickers with a common theme can be exchanged on:
Gold Coins
Phoenix Ups
Other stickers with better value. Player will obtain at least one better sticker from redeeming sticker set.
Three rewards from sticker set are decided by random and depend on a tier of sticker.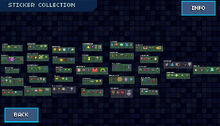 Sets of stickers are divided by a tier with common stickers on the left side and rarest ones on the right. Overall, there is 8 tiers of stickers.
Avians
Monoids
Insections
Trycloidians
Cephalopods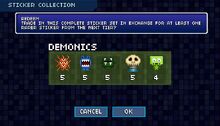 Demonics
Consoluscode
Multipods
Edibullis
Eyecons
Bearpods
Varix
Gamoids
Pixels
Tenticlaives
Hauntenings
Toxoids
Gruesomes
Latepoids
Maws
Hydrons
Veganeths
Chiprocks
Pre-Higamic
Binarons
Canimoid
Numerions
Incisions
Lengthians
Tarribles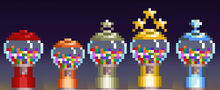 Tier 8 is considered the best. In current update, when tier 8 set selected, instead of usual "Redeem" button a special "++++" button appears. When pressed, it shows a message:
"You did it! You completed the final set of stickers. Some day you will be able to do something with these so hang onto them"
Which points to some sort of special reward for players in future updates.
Each sticker value is stored in one byte cell, limiting amount of stickers of one type to 255 with last value reserved to a sold out sticker. If player somehow will acquire more than 254 stickers (which requires obscene amounts of time) value will overflow, destroying all 255 stickers and, potentially, resetting the value of stickers next to it.
Division by groups hints at certain hierarchy between monsters.
Weekly hunt special monsters don't appear on stickers, while EX monsters from ingame hunt like Bulbon do.
Ad blocker interference detected!
Wikia is a free-to-use site that makes money from advertising. We have a modified experience for viewers using ad blockers

Wikia is not accessible if you've made further modifications. Remove the custom ad blocker rule(s) and the page will load as expected.